MD Art Nontraditional Approach to Art and Art Reproduction
With only 7 years old, Los Angeles-based MD Art by Bart Cooper is making quite the name for itself. With the brainchild of the elite art company Bart Cooper, MD Art is much more than an art reproduction studio.
The fledgling company has effectively blurred the lines of how art reaches the public, from creation to exhibition and print sales. Cooper provides the genius behind the MD Art art brand, creating modern, urban artwork that is the mainstay of MD Art's line. Cooper is the brains behind the business, with a natural flair for marketing and finding the right avenues for MDArt's distinct style...To Read Full Newsletter Click Here

BET Experience: MD Art Merges Beauty and Art
Artist MD Art makes art from beauty and fashion
Strength of Nature (Motions) is a international hair care company dedicated to consumer hair care education and the development and manufacture of innovative hair care solutions for women of color.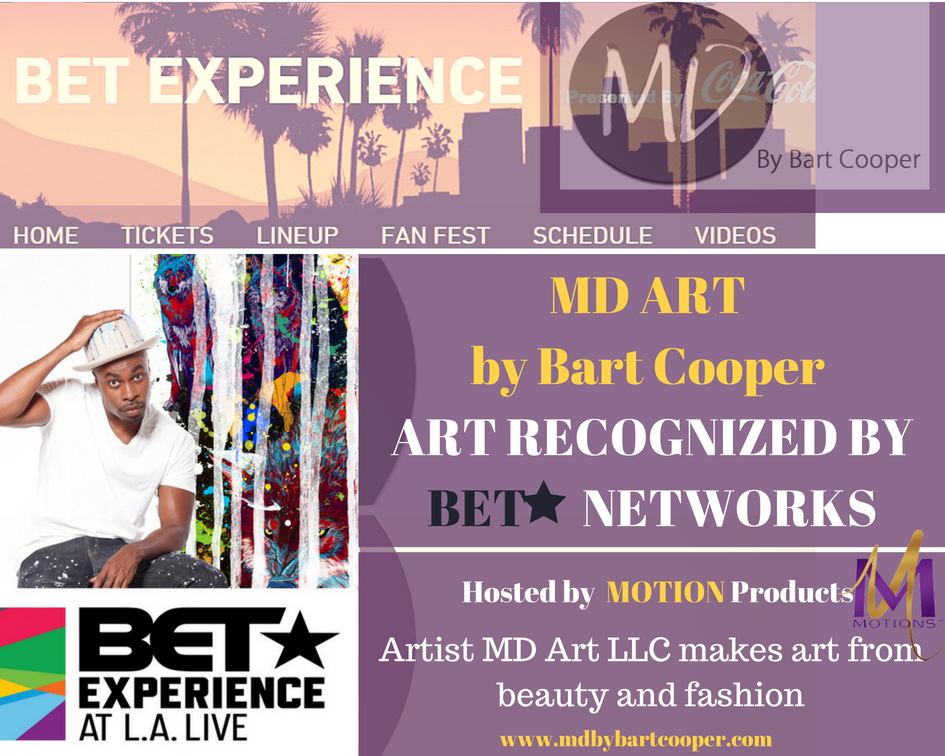 Motions an exclusive hair sponsor of BETX series, Strength of Nature embraces the many textures and tones that make African American hair beautiful. The dedicated Hair @ BETX activation features a sleek hair salon and dry bar, offering hair services from haircare experts and brand ambassadors.
On a recent episode promoting The BET Experience (BETX) at L.A. LIVE presented by Coca-Cola, Motions featured Bart Cooper, one of Los Angeles's top multi-faceted creative artist and president of LA known MD Art LLC. The LIVE promotional special focus on Cooper's ideological reasoning on the merging of beauty and fashion in his artwork. For Full Live Interview Click Here Cooper said he loves partnering with Motions Product because Motions is a visual audience that enhances his aesthetic appeal. Cooper noted, "Working with hair and Motion Products give me more creativity. The mixture of fashion, woman, and beauty produce a regal look in his art."
The BET Experience (BETX) at L.A. LIVE presented by Coca-Cola, Strength of Nature (Motions) featured MD Art "Beauty Fashion & Art" Exhibition (Video)
The mix of beauty fashion, and art have had a common history. Art and fashion have been ways to give our life some beauty. The concept of beauty and fashion in art has a historical value, where it has been a way to represent the world, our hopes, our dreams, and our fears as fashion has been a way to beautify ourselves.
Art is a form of expression.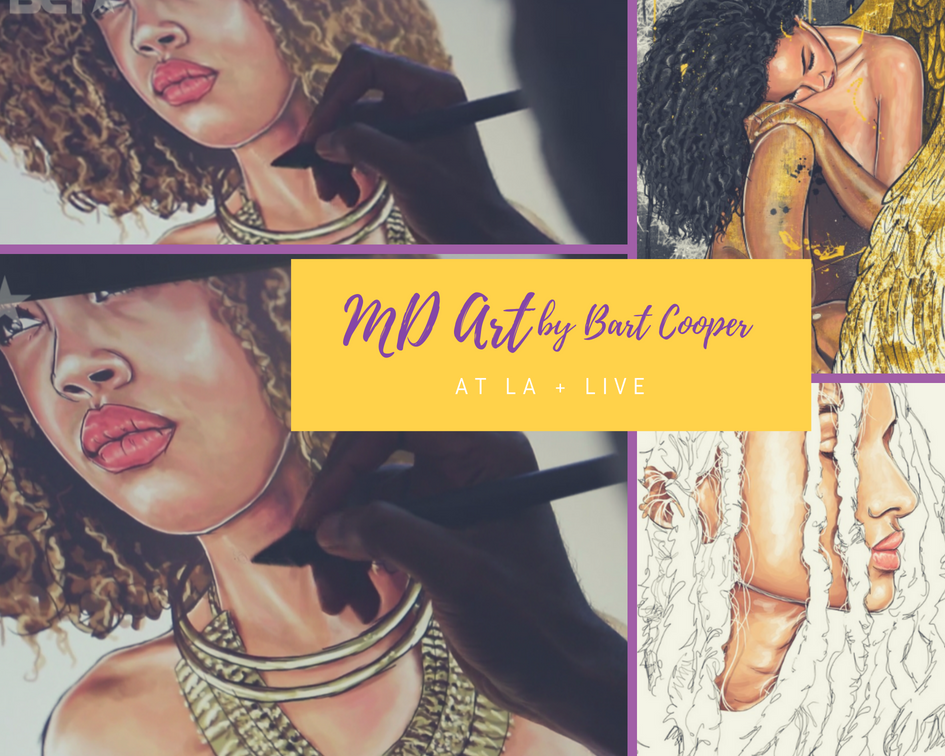 Expressing your inner feelings, expressing society around you, expressing whatever can come to your mind through your words, your music, your dance, your whatever else thing that may keep u at peace with your inner self. Fashion is something through which you can express your style, and which is majorly followed by communities.
"MD Art is a multi-faceted creative Art company, located on the gorgeous West Coast of Southern California, specializing in contemporary, modern and pop art. Previously known as Maxwell Dickson, we are proud to now be exclusively artist owned and still devoted to the Art Driven Lifestyle. Our remastered company and digital store have all the same great art as before but with better than ever quality. Every giclée artwork is carefully assembled by experts in the United States and is guaranteed to last lifetimes." Cooper noted on his company's brand.